Tree Pruning in Hackettstown NJ and surrounding areas.
Tree pruning is superb way to take care of the trees on your property. A specialist will do the best job because pruning requires a certain amount of ability to do it correctly. During pruning, it is vital to maintainin the integrity of the general tree structure. Understanding how much pruning is necessary is important to get the best results. All trees are carefully scrutinized before pruning starts so that the most appropriate course of action can be taken to form the trees correctly.
Give us a call to schedule your free tree pruning quote at (908) 356-6344
Tree trimming and tree pruning services are the cornerstone to any successful tree maintenance program. It's crucial to sustaining your tree's health, stimulating growth and keeping its normal look, but if you attempt to trim your trees yourself, you may end up trimming incorrectly, causing serious harm to your cherished asset.
Pruning and trimming is a science in addition to an art form. The science involves a deep understanding of tree biology, recognizing plant defects and logically eliminating or minimizing flaws without hindering the tree's growth or causing irreparable damages. The art form is masterfully trimming and pruning by eliminating suitable deadwood that visually contours your tree to enhance the beauty of your landscape.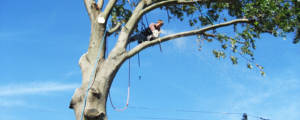 The valuable Advantages of professional tree trimming and pruning
The employees at Hackettstown Tree Services have been mastering the craft of tree pruning and trimming services for more than two decades. Our arborists have a profound biological experience when it comes to trees and understand how to perform a professional tree trimming or prune that provides valuable benefits such as:
A healthier, stronger tree having an extended lifespan
Fewer unhealthy, unsightly and dangerous limbs
More sun that allows for a lush and beautiful undergrowth
Increased resistance to tree pests and diseases
Increased power to defend against storms and high winds
When it is time to call in a professional arborist
Your shrub appears too near power lines
Branches are near or are touching your home
You see dead, unsightly or loose hanging branches
Your trees have not been trimmed or pruned in the last 3 years
You Want your tree shaped for a more decorative curb appeal
To make the most experienced and educated arborists in the market for any tree pruning or trimming service, call (908) 356-6344 and request a consultation now.
Check out Jupiter tree if you live in their area. They provide excellent work at affordable prices.